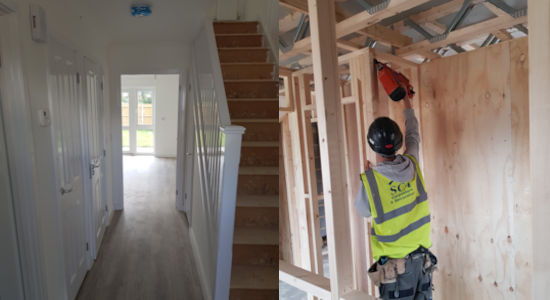 Our Tips On Hiring The Best Carpentry And Joinery Contractors To Take Your Construction Project To The Next Level
SC4 Carpenters - 22-Feb-2022
When you're seeing a building development through to completion as the main contractor on a project, you'll need to hire the best carpentry and joinery sub-contractors for job. From roofs/first fix to second fix and finals, trust, skill and reliability matter in construction. But sometimes it can be hard to determine the criteria to use in order to select the best commercial carpentry contractor. Insurance, accreditations, skills, qualifications and experience - they're all important. Here are eight tips for hiring the best carpentry and joinery contractors for building developments.
1) Spell Out Your Requirements
Before you start assessing your contractors, make sure you understand the scope of the project, a breakdown of the tasks and the competencies you require. If you're clear about what you need, it's easier to look only at those contractors with the relevant skills, capabilities, availability and experience.
2) Check The Contractor's Areas of Specialist Skill
Some contractors specialise in specific areas of carpentry, such as new-builds, timber frames, renovations or refurbishments, while others offer a more generalised skillset. With specialist technical work, ensure that your contractor has experience in those areas of construction. Check their portfolio and record on previous projects. Building forums and comparison sites can be a great source of testimonials from satisfied clients, especially if you're using a contractor without a direct recommendation.
3) Look Up Accreditations
Having the right qualifications for the job is a reliable sign of a quality carpentry contractor. Make sure they have CSCS, CPCS or similar accreditations, with cards to prove it. It's also worth checking their health and safety credentials. Up-to-date SMAS, CHAS Acclaim or other SSIPs show that your contractor is looking after the safety of everyone on site. They're also a good indication of trustworthiness and reputational confidence more generally.
4) Ensure Appropriate Licenses
Certification by a relevant professional trade body can reassure you that a contractor is capable of carrying out their work to approved standards. It's worth checking that prospective contractors are registered with the UK government endorsed TrustMark scheme, which shows they have been fully vetted for work standards and customer service.
5) Check Insurance Cover
For insurance, ask to see proof of all covers relevant to the contract. Any contractor with employees needs to have employer's liability cover. They should also have their own public liability cover. Proper cover indicates a responsible operator and can stop claims being passed on to you or your client.
6) Be Sure Of The Details
Before any work starts, you should set out all your requirements and objectives in a detailed contract acceptable to all parties. Make sure you agree all the finer points with your contractor. You'll need to be on the same page with timescales, completion criteria, payment terms and other details to avoid misunderstandings in future.
7) Choose Local
Improve the social value of your project by choosing carpentry and joinery contractors who are local to your building project. An ethical company will care about their community and be investing in apprenticeships, supporting local charities and have strong anti-slavery and equality and diversity policies. Above all, they're likely to be more reliable, with values and ethics that match your own.
8) Check Who's Doing The Work
When you hire a carpentry and joinery contractor, you should know who is doing the work. Usually, it's the contractor's own work force, and they should have the appropriate training and qualifications, as well as the legal right to work in the UK. It's also important to check if any subcontractors are involved. For specialist work, this can be a benefit, but you need to make sure you vet them just as stringently.
Next Steps
To find out more about our carpentry and joinery services, including our accreditations, work record, and areas of expertise, please feel free to give us a call for an informal chat.