Timber Frame Installation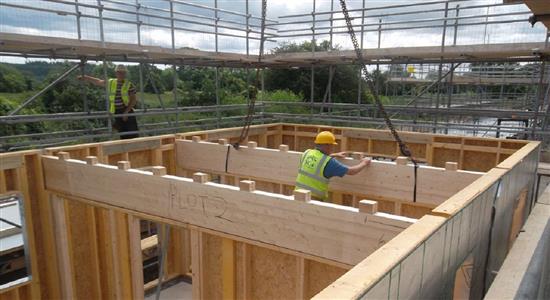 SC4 Carpenters Ltd provides a high quality installation service for your timber frame products and construction.
With many years of experience in providing, fast, efficient and high quality carpentry construction services for housing associations, educational establishments, care homes and private developments, SC4 has the construction knowledge necessary to assist developers in meeting the rising demand for timber frame across the south coast.

SC4 Carpenters Ltd have been erecting timber frame kits on time and in budget across the south of England for more than 17 years, ensuring they are up-to-date with the latest technical advances and sustainability requirements.

Maximising Thermal Performance: Insulation ensuring good U-values while maximising floor area

Minimising Thermal (Cold) Bridging: Caused by a

break in the continuity of the insulation.



Minimising Thermal Bypass: Reducing movement of unheated air within cavity party walls, roof spaces, underfloor walls.

Maximising Airtightness (reducing air leakage): Timber frame, unlike masonry, can minimise air leakage through use of floor band vapour control membrane
Rapid Construction: The Timberframe is quickly erected and water-tight including roof, enabling internal and external trades to work in parallel.
Qualified, experienced erectors add value to timberframe manufacturer's products
As a member of the Structural Timber Association (STA), SC4 Carpenters Ltd benefits from excellent technical knowledge ensuring that your timber frame products are installed to the highest standard and that designed levels of air tightness, insulation, u values, etc. are achieved.

SC4's qualified and experienced workforce includes:
CPCS Appointed Person (AP) Crane operations
CPCS Crane Supervisors
CPCS Slinger Signallers
NVQ Timber Frame Erectors
NVQ Carpenters and Joiners
SMSTS Managers and SSSTS Supervisors
CSCS Health and Safety Qualified Operatives
SC4 Carpenters Ltd's other services for its Timber Frame clients
SC4 has over 17 years of experience on developments from 1 to 200+ units offering the following services:

All aspects of Site Carpentry including fitting of Handcut and Trussed Roofs, Joists, First and Second Fix, Cladding, etc
Turnkey and project management

To discuss your timber frame installation requirements please fill out the form below!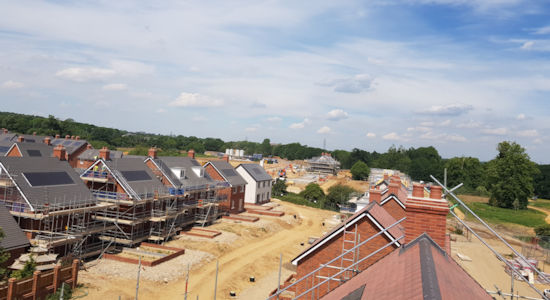 In 15 months from March 2018 to August 2019, SC4 Carpenters Ltd erected 250+ timber frame houses and flats for timberframe manufacturer, Taylor Lane at Phases 1, 4 and 6 of this Highwood site in North Stoneham Park, Eastleigh. A further 100+ homes on Phases 4 and 7 were erected by SC4 in Autumn 2019-Spring 2020 and in Spring 21, SC4 started installation of a further 186 units.