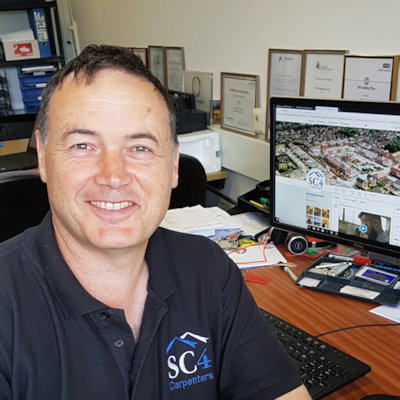 Conrad Hall
Director
03301200776 ext 101
03301200776 ext 107
Conrad has been an Owner Director of SC4 Carpenters Ltd since its inauguration in April 2000.
Conrad has been working in the construction industry since he first started out as a carpenter at the age of 18 and has more than 35 years experience in high quality Carpentry and Timber construction.

Conrad has gained a wealth of knowledge as a carpenter/supervisor, as well as establishing and running the carpentry, timberframe erection and turnkey construction company, SC4 Carpenters Ltd, for over 20 years.

As a member of the Structural Timber Association, Conrad has expertise in manufacturing and building energy efficient timber frame homes and is a trainer in timber frame construction. Conrad is also an Appointed Person for Crane Operations and responsible for site Health & Safety.
Roles: Company Director with overall responsibility for estimating, turnkey projects, health and safety, and CPCS appointed person crane operations.
Find out more about Conrad's story in the video below and his blog from 2022 - Celebrating Neurodiversity and Dyslexia in Construction.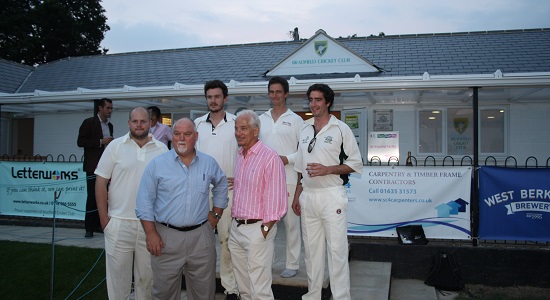 Bradfield Cricket Club's New Pavilion
The timber frame was impressively erected by SC4 Carpenters Ltd in only a few hours
After our pavilion was burnt down due to an arson attack, the members of the club were concerned about the future of the club.
SC4 Carpenters Ltd helped with the design, application for planning permission and project managed the build process, and were sympathetic to the timing of available funding due to the cricket club having to apply for grants etc.
The ground work was completed during a very wet early spring; however, the timber frame was impressively erected in only a few hours.
The build progressed well considering certain later stages were delayed due to timetables attached to grant applications, however, SC4 were flexible enough to accommodate these delays efficiently.
The result is a Clubhouse that is fit for purpose and that has played a major part in the success of the club which has gone on to increase its membership to some 60 or more youth players of varying ages, and a senior membership of more than 50.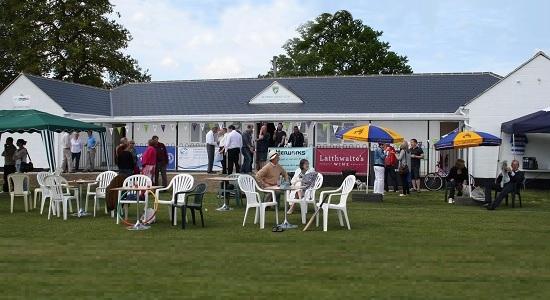 Recently we hosted a Laithwaites internal cricket competition where the sides were managed by David Gower and Michael Gatting. The facilities have also allowed us to include fixtures against Berkshire Ladies, which sometimes include one or two who play for the England Ladies.
The quality of the finished product is a testament to SC4 Carpenters Ltd and the cricket club has no hesitation in recommending the company and to that end we actively advertise SC4 at all our matches.
John Bargent, President
Bradfield Cricket Club