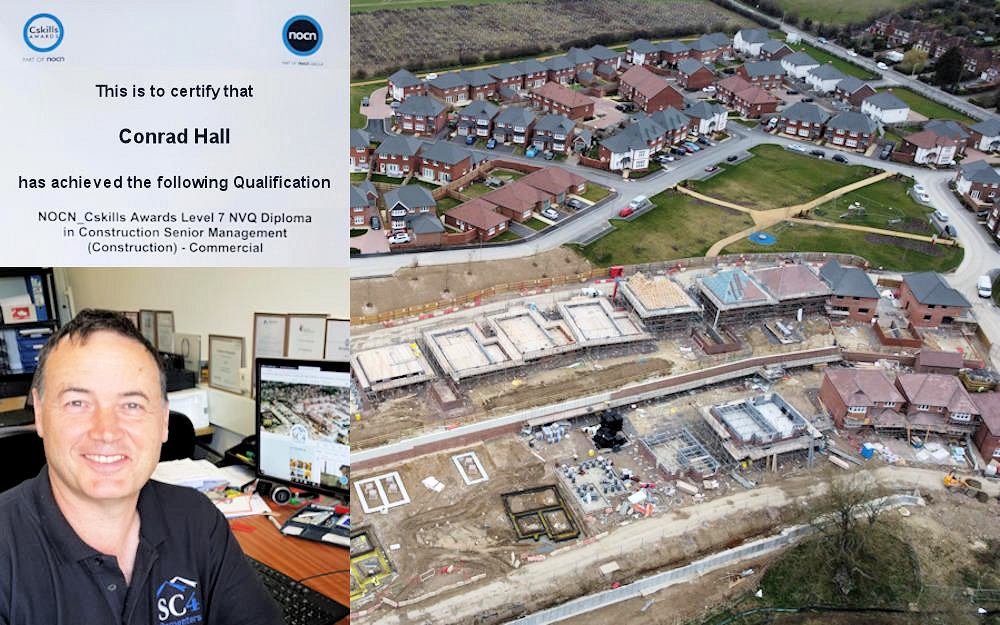 Celebrating dyslexia and neurodiversity in Construction
Conrad Hall - 03-Feb-2022
In this article, Conrad Hall, owner/Director of SC4 Carpenters Lt discusses his 40 year career in construction and how his dyslexia and neurodiversity has contributed to his success
In January 2022, when I received my NVQ 7 in Senior Construction Management it was validation for years of hard work, experience and building belief in myself.
I've faced challenges my whole life including being:
Written off at school and told I'd never achieve anything
Accused of cheating or not trying when I got high marks in multi-choice and low in written papers
Told to write in CAPS or I'd never pass an exam
A victim of the highly criticised youth training scheme (YTS)
Unable to read for pleasure and having to read everything multiple times
Yet I didn't give up:
I put all my efforts into what I was good at - Maths, Technical Drawing, Carpentry and Metalwork
I did all the boring low paid carpentry grunt work with no on-site training or support
I stacked shelves in the supermarket when there was no other work
I put up with abuse as an agency carpenter with little site experience
And more abuse as an experienced carpenter when my rate of work was used to penalise those who were slower
So when I set up SC4 Carpenters with my business partners, Katy Hall, Simon Griffiths and Julie Griffiths, I vowed that we would treat our subcontractors with respect and without prejudice.
That was just the beginning of the learning curve.
During almost 40 years in the industry:
I put all my efforts into learning everything I could about carpentry, timber frame installation, construction health & safety and management
I learnt that running your own business is 24-7 not 9-5
That dyslexia and neurodiversity may be disabling at times, but provide me with many strengths I need to be a successful carpenter and entrepreneur including creativity, spatial awareness and reasoning, problem solving and lateral thinking, being able to see the bigger picture, a great memory for numbers and having empathy for others
I learnt from being exploited, subbie-bashed, unfair contracts and clients going into liquidation
And from being discriminated against and witnessing elitism, racism, sexism and ableism in the construction industry
I experienced stress and depression as well as the elation successes bring
I survived the 1990/1 recession with 15%+ interest rates and no work

Our company survived the 2008/9 recession and the 2020/21 Covid-19 crisis
I am now the proud owner/Director of SC4 Carpenters Ltd, a thriving carpentry and decorating business that has been trading for over 21 years.
SC4 provides a high quality service as one of the leading carpentry companies in Hampshire and surrounding regions, building 100s of new homes every year.
➤ Click here to find out more about our services and projects
At SC4 we understand that our business needs all kinds of people with all kinds of skills. And we know that kindness, respect, coaching and mentoring can make a massive difference to someone's life and career.
But I didn't do this on my own. - so thank you to all the people who've helped me along the way
All those people who said I couldn't do it - it just made me work harder to prove them wrong
Experienced carpenters who saw my potential, shared the tricks of the trade and mentored me
The dyslexia specialist who assessed me in my 30s and praised me for finding the solutions to my disability when I didn't even know I had one
Family who lent me money to buy expensive power tools and gave me time to repay them
My business partners who have been at my side building SC4 Carpenters Ltd over the last 21 years
All the subcontractors and staff at SC4 who work hard for our business every day
The clients who don't judge me when that email isn't written as clearly and concise as it could be
My NVQ 7 Assessor, Paul Morling from CITB Construction Skills, who went out of his way to put me at ease - I can't praise him enough.

So never give up, believe in yourself, embrace life-long learning and both the good and bad experiences, and remember accepting help, support and advice is a strength not a weakness.