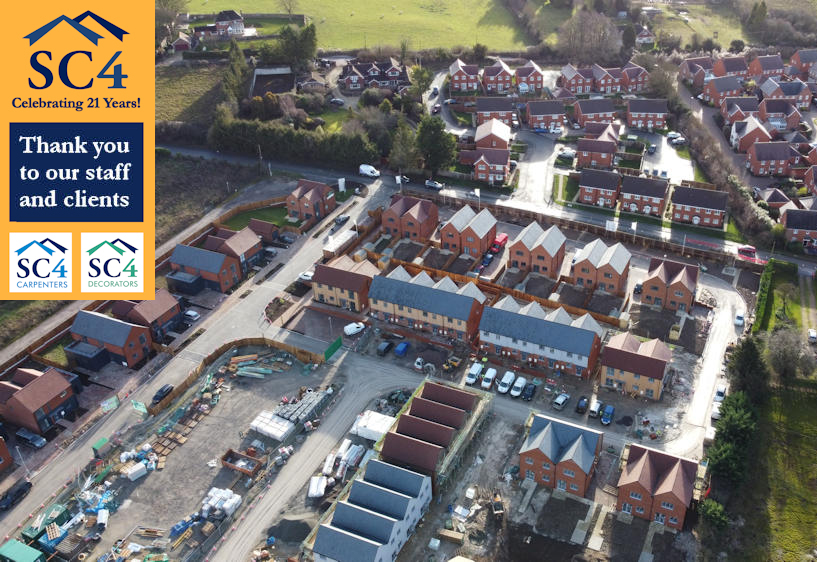 6 years of contract carpentry works in Andover, Hampshire
Katy Hall - 16-Feb-2022
SC4 Carpenters Ltd understands how important a high quality finish inside and out is to you and the new owners of your new homes
As part of our 21st birthday celebrations, SC4 Carpenters Ltd has looked back a some of its projects over the past few years.

Since 2016 SC4 Carpenters Ltd has provided contract Carpentry, Timber Frame installation and Decorating services for several large sites for Foreman Homes, including 2 back-to-back projects off Walworth Road in Picket Piece, Andover.
From 2019-2021, SC4 provided contract Carpentry services for construction of a Foreman Homes development of 82 new build terraced, semi detached and detached homes.

The Nightingales, Picket Piece, Walworth Road, Andover project included installation of extensive external cladding to provide the beautiful finish for these fabulous new homes.
Work on the Landfall development (opposite The Nightingales) was carried out from 2016-18. Landfall consisted of 14 houses and apartments and is pictured in the background in the image above.

The Commercial Manager at Foreman Homes describes SC4 as a:

"Very friendly and professional outfit. Always willing to help out and try and problem solve with us."
➤ Click here to find out more about our projects and services

View some of our other projects for Foreman Homes below: