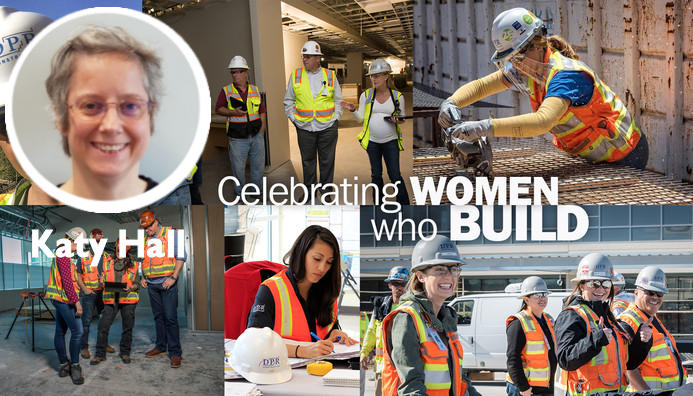 Celebrating Women in Construction
Katy Hall - 12-Jan-2022
As a woman who has worked in construction for more than 30 years I still suffer from imposter syndrome. So I was really excited to read so many social media posts on #womeninconstruction in December 2021 and motivated to share my own story.
My story in construction began in the late 80s when my husband started his career as a self-employed carpenter and I did his books, tax returns, etc. When we started our company SC4 Carpenters Ltd in 2000 with our business partners, I became the Company Secretary setting up the business and doing all the legal and administrative legwork. I was an equal owner and director and was heavily involved in the commercial strategy right from the start. Yet I still saw it as their company. They were the ones on site, they had the technical knowledge and carpentry experience.
Over time I went from working part-time on the accounts, to being responsible for all administrative and directorial tasks from contracts and financial to sales and marketing to business and commercial strategies. I was spending all my weekends on SC4 whilst also looking after our two children. At the same time I was running my own successful scientific publishing business fulltime, developing large online databases and participating in projects on sustainable and renewable energy and materials throughout Europe.
As I spent less and less time on my own business and took on more and more responsibility in SC4. I took on a book-keeper to assisting me. Then, around 10 years ago, I made the decision to wind-down my own company and concentrate full time on developing our growing Carpentry, Timber Frame installation and Decorating business. Despite all my transferable skills and experience, both in business and sustainable development, and all the financial, legal and strategic responsibility, I was taking I still felt like an imposter.

Changing attitudes to equality and diversity in Construction
It hasn't always been easy, over the years I have been patronised on numerous occasions by project managers and surveyors who thought that because I didn't work on site (and in many cases because I was a woman) I didn't know what I was talking about and they could bluster and bully me. On the flip side, despite being 5'2", I have been told to be careful not to intimidate men with my intelligence or assertiveness.
However, I have seen real cultural change in the Construction industry in the last few years - led by a skills shortage and the emerging importance of equality, inclusion and diversity (EDI) in all aspects of life. The industry has finally realised that sexism, racism and other prejudices are unacceptable and that it is missing out on the contribution of many talented people by excluding more than 50% of the population.
I am highly motivated to ensure that our business acts responsibly, valuing our staff, our clients, their clients, our community and the environment. All our staff have equality training and that our managers are trained mental health first aiders. Equality is embedded in the culture of our business and prejudice is not tolerated in any form.
There is still a lot to do. For example, although we have had a few female work-placement carpenters over the years, all our workforce on site are men, and although we have a wide representation of nationalities, ethnicities, backgrounds and religions working with us, they still face prejudice regularly. In the industry as a whole, others face prejudice because of their mental health, gender, sexuality, background, age, etc.
Information and Support
More information and support from organisations promoting careers for women, equality and supporting mental health in the construction industry can be found here:
On a personal level, the increasing prevalence of women in Construction, not just in the accounts office, but working as surveyors, plant operators, site agents and tradespeople, has helped me realise what a pivotal role I play. My experience in other industries has provided me with vast financial, marketing, ICT, strategic, environmental and sustainable knowledge and skills which benefit SC4. I have and continue to contribute significantly to its success.
I am not an imposter, I am vital to my company.
This is not because I am a woman; my gender is and should be irrelevant to the job I do. However, I am a woman and this is intrinsically entwined with my experience in this industry. I am also a role model for other women in the industry whether old hands, just starting out, or still finding their way and developing their careers.
In 2022, I aim to spend more time on site meeting and talking to the people who work for and with us.
I am a women in an industry dominated by straight white men, which is better for me being in it and I own that.

Specialist Carpentry and Decorating Services From SC4
At SC4, we provide both carpentry and timber frame installation services, as well as the added benefit of painting and decorating services, to building contractors and property developers throughout Hampshire and surrounding regions in the South. We have a diverse and highly qualified workforce with specialist skills in all areas of carpentry and decorating, so to discuss your project requirements, request an estimate, or find out more about working for us, please contact us today.