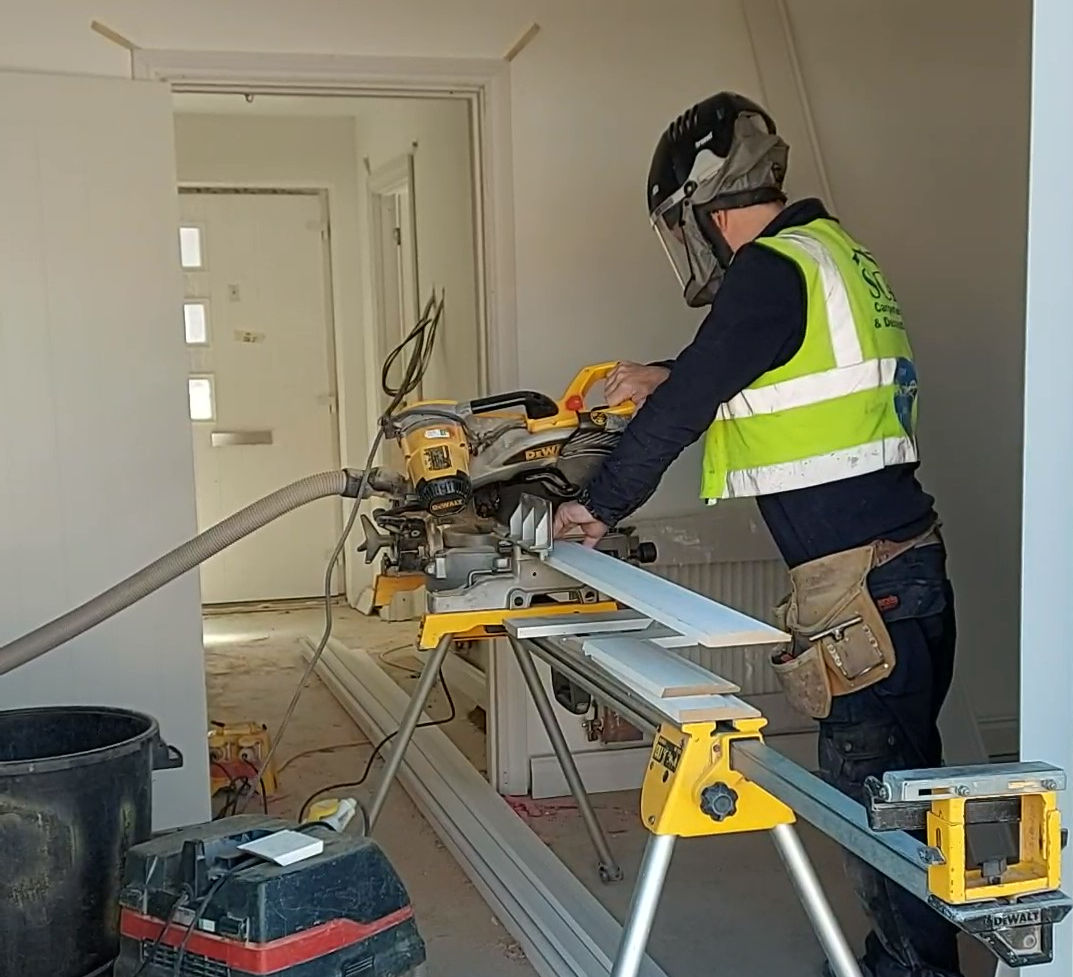 How To Source The Best Carpentry And Joinery Professionals For Your Construction Project
SC4 Carpenters - 11-Nov-2021
A Carpenter and Joiner has one of the key skillsets required for a wide range of construction projects. Although there is a considerable overlap of skills between carpentry and joinery, the two are quite distinct; so, if you're a construction business or main contractor looking for a trustworthy and professional carpentry contractor for your construction project, or are considering a career in the industry, it's important to understand the similarities and differences between carpentry and joinery.
At SC4, we offer a bespoke contract carpentry service to meet the project outcomes of construction contractors in Hampshire and surrounding counties, provided by reliable, skilled, experienced professionals ensuring straightforward management of your project.
Professional Carpenters For a Range Of Construction Tasks On Site
Carpenters play a crucial role in the installation of large sections of construction projects, such as floors, staircases, and roof trusses. Unlike joinery, which focuses on producing smaller components using specialist machinery off-site, carpentry usually takes place on-site, as the materials involved are fitted in place. Carpentry is a highly skilled trade that plays a crucial role in the construction of buildings, and has an important structural role in the installation of roofs, floors, walls, staircases and timber frame buildings.
Qualified Carpenters & Joiners For On-Site Support
Joinery is a word that covers many types of fine woodwork, usually involving the joining of pieces of wood using different techniques to create an object or component. Although joinery skills are used on site when installing staircases, skirting, architraves and other second fix items, the term joinery is more commonly used to describe off-site manufacture of timber products such as windows, doors and staircases, as well as specialist furniture, such as tables, chairs, and cabinets. Because joinery requires the use of heavy machinery, it often takes place in a workshop, with products transported to a construction site for fitting later.
Site wood tradespeople will have an NVQ 2/3 qualification in Carpentry & Joinery. They are experts in using a variety of techniques to install wooden parts securely and safely and possess an excellent ability to read technical drawings in order to work to exacting standards.
How a Skilled Carpentry Contractor Can Help You Deliver Your Project Outcomes
In construction, carpenters carry out the following tasks:
Fitting hand-cut roofs and timber trusses
Installing floors
Assembling and installing staircases
Installing windows
Creating boxings around pipes and cables
Designing and building cupboards
Building stud partition walls
Installing second-fix items such as doors, skirting, architrave, kitchens, etc.
Installing finals items such as door locks and handles, vanity units, etc.
Installing timber frame structures
Common tasks bench joiners undertake off-site include:
Making doors and window frames
Manufacturing staircases
Designing and building fitted furniture
Of course, the overlap in carpentry and joinery knowledge and skills means the various aspects of wood trades are not wholly exclusive. At SC4, our experienced tradesmen combine their carpentry, joinery and timber frame installation skills and experience to ensure that the highest standards are delivered, whether ensuring a timber frame building, staircase or floor is fitted to NHBC and LABC standards, or the overall finish and design is as you imagined. They have a commitment to the finest quality, technical knowledge and experience, and understanding of and respect for your client's and the homeowner's needs.
Looking For 'Carpentry and Joinery Companies Near Me'? Call SC4 Carpenters Today
At SC4 Carpenters, our technical directors have been in the industry for over 35 years and the company has more than two decades of experience providing bespoke carpentry and joinery contracting services to construction businesses, with the knowledge and experience to delivery complex projects on-time and on-budget. To find out more about our carpentry and joinery services, please call us on 0330 912 1154.