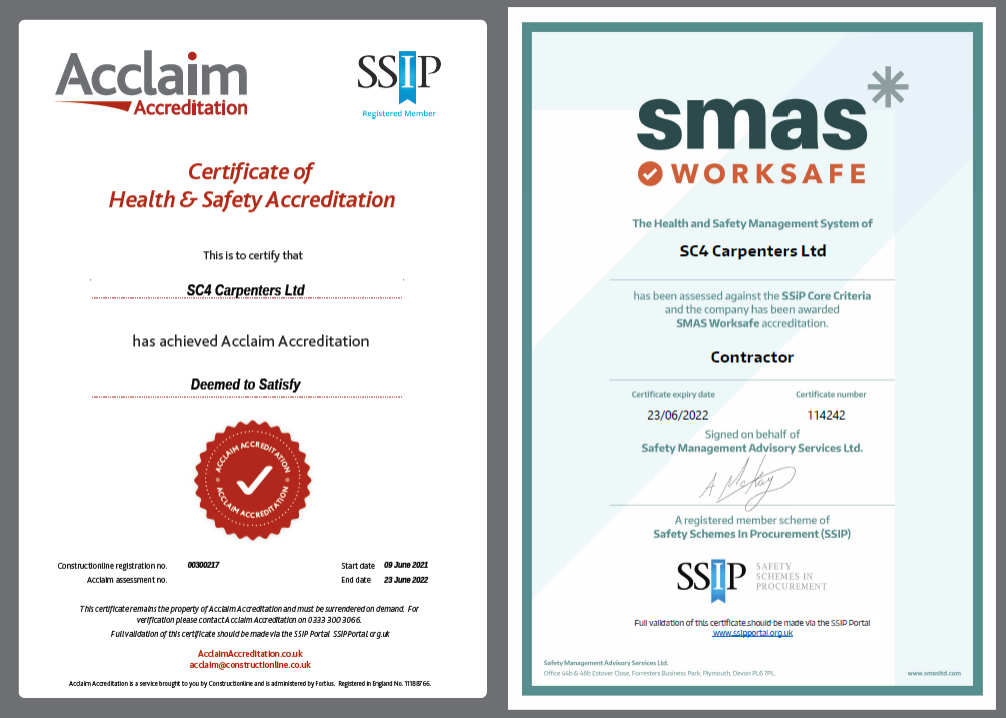 Why is Health and Safety in Construction Important?
Conrad Hall - 10-Jun-2021
At SC4 Carpenters Ltd we are proud of our excellent health and safety record over the last 21 years. We have just renewed our SMAS and Acclaim SSIPs accreditations for 2021-2022. In this article we explain what this means for us, our clients and our workforce.
Why is Health and Safety in construction important?
Health and safety is one of the most important considerations that should take before any construction project gets underway. This is particularly important because the construction industry is prone to hazardous situations and can be dangerous at times.
With statistics showing that up to 5% of all construction workers in the UK sustain a work related injury or are suffering from work related illness, SC4 Carpenters takes Health & Safety very seriously.
Even more worryingly, according to Health and Safety Executive (HSE) figures, of the 111 workers killed at work between April 2019 and March 2020, 40 were construction workers.

A large portion of accidents on the construction site are caused by slips, trips and falls, with others injured during lifting and handling or falling from a height.
Not only is health and safety important to avoid injury, there are also plenty of other long term benefits. Workers are safer and happier and the right knowledge and tools, boosts morale and productivity on site.
SC4 Carpenters Ltd's attitude to Health & Safety, training and corporate responsibility means our clients can be confident in our reputation as an experienced company offering high quality contract Carpentry and Decorating services safely and effectively.

How can you minimise the risk of accidents on a construction site?
Safety in construction is a serious issue. There are 4 main ways in which SC4 Carpenters Ltd prevents these accidents from happening: implementing a Safe Environment; Training; Tools and PPE (Personal Protection Equipment); Get advise and support for experts.
Implement a Safe Environment on Site
Making the workplace safe includes providing instructions, procedures, training and supervision to encourage people to work safely and responsibly. To do this:

Make Health and Safety Your Top Priority
Understand the risks on Site
Be constantly Aware
Ensure Workers are Involved and Invested

Hold Everyone Accountable
Record near misses and act to prevent them becoming incidents
Reward the Good and Correct the Bad
Training
We ensure that all our workers and management staff:
Properly trained and qualified: In order to ensuring the high quality of work our clients expect is undertaken in a safe way, we make sure that workers are properly trained in the work they are going to carry out before starting on site. We also carry-out regular toolbox talks providing top-up training. This training makes sure our managment and workforce are aware of the risks on the construction site and know how to successfully mitigate those risks.
Hold valid CSCS, CPCS or other similar cards: These provide proof that individuals working on construction sites have the appropriate training and qualifications for the job they do on site. By ensuring that managers and workers are appropriately qualified the card plays its part in improving standards and safety on UK construction sites. In particular, they provide information confirming the level of Health and Safety training the holder has achieved and when they last passed an HS&E test.
PPE and Tools
PPE (Personal Protection Equipment): Making the workplace safe includes providing instructions, procedures, training and supervision to encourage people to work safely and responsibly. The right PPE makes a huge difference on a construction site and helps to avoid any unnecessary accidents. Safety products such as fall arrest systems and safety clothing can help to reduce the risk on site.
Tools: Ensure workers have the correct tools and know how and when to use them. Ensure that workers have been trained to use the tool, that regular refresher training is carried out. Carry out regular PAT testing, maintenance and servicing to ensure the tools are safe to use.

Get expert advice
To keep up to date with legislation and current practices, make sure you obtain expert advice, support and protection from Health & Safety specialists with regular reviews of Health & Safety policies, Risk Assessments and Method Statements.
What is SMAS?
SMAS Worksafe (Safety Management Advisory Services) is a nationally recognised Health & Safety accreditation that demonstrates our business' Health & Safety standards, giving main contractors confidence when it comes to our competence. SMAS demonstrates to our clients that SC4 Carpenters Ltd has been subjected to increased scrutiny around governance and risk management.
Other Accrediations

As well as Health & Safety, SC4 has been assessed by SMAS, Acclaim, ConstructionLine Gold, the Federation of Master Builders and TrustMark in the following additional areas:
finance and business standing
environmental management
quality management
equal opportunities
modern slavery act adherence
anti-bribery and corruption policies

SC4 Carpenters Ltd is also a certified member of the Structural Timber Association (STA).
What is Acclaim?
Acclaim Accreditation is a Health and Safety accreditation service provided by Supplier Assessment Services. This involves an online assessment of our company's Health and Safety documentation and work activities as an independent competent assurance of the systems we have in place.
What is SSIP?
Safety Schemes in Procurement (SSIP) is the mutual recognition scheme for occupational health and safety standards particularly within construction. SSIP facilitates mutual recognition between health and safety pre-qualification schemes saving time, effort and cost of multiple certifications.
SSIP is committed to ensure reduction in health and safety assessment costs and bureaucracy in the supply chain, by making cross-recognition between member schemes as effective as possible.
In 2021 there are in excess of 74,000 suppliers registered with an SSIP Member Scheme and this information is readily accessible via the SSIP Portal. The SSIP Portal is free to access and provides an easy way of finding out if a supplier holds valid certification with an SSIP member scheme and confirms compliance with the SSIP Core Criteria.