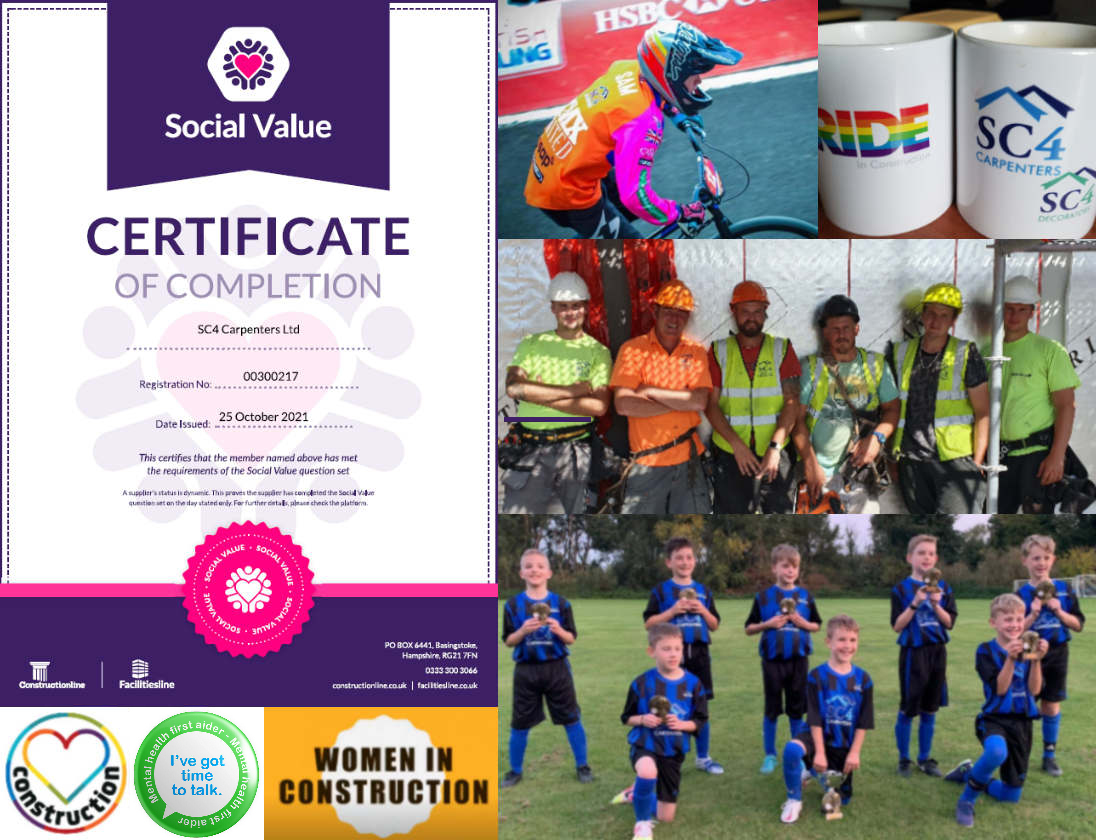 What is Social Value and why it is important to us?
Katy Hall, Director - 26-Oct-2021
On 25 October 21, we received notification from ConstructionLine certifying that we have met the requirements of its Social Value question set.
Why is Social Value important to SC4 Carpenters Ltd?
Social Value is a requirement of most public procurement projects, however SC4 predominantly works in the private sector of new house-building, so why is providing social value so important to our company?
Construction is uniquely positioned to generate long-term public benefit and improve well-being and the creation of social value is the conscious effort by a business to deliver these benefits. So our answer to that question is "Why wouldn't it be important?"

SC4 Carpenters Ltd has always been an inclusive company. The Operations and Technical Directors both started as subcontractors learning their trade on the job and value the individuals who work for us based on their skills, attitude and achievements irrespective of ethnicity, gender, sexuality, disabilities or educational and social background.
SC4 is 50% owned by women and feels passionately about ensuring Equity Diversity and Inclusion (EDI) in our company. We have actively promoted EDI in our social media and on this site, including raising awareness of LGBT+, mental health and EDI issues, and have provided EDI training to staff at all levels.
Although we have a predominantly male workforce, we are proud that it represents a diverse local social and ethnic community where the benefits provided by individual skills and experience, knowledge, expertise, neurodiversity and conditions such as dyslexia are valued.
What does Social Value mean to us?
Social value is important for SC4 as it aligns with our core values as a business, including:
Treating staff, subcontractors, clients and the public with respect
Equity, Diversity and Inclusion as a cornerstone of our business including training for staff and subcontractors
Being active against Modern Slavery
Respecting individuals, including employment of disadvantaged groups including under 24s and over 50s, women (in a male-dominated industry), those with disabilities, ex-offenders, and those from the BAME community
Fair pay, training and development of our workforce enabling job satisfaction, participation and progression, upward mobility, voice and autonomy
Health and safety ensuring well-being, safety and security
Supporting Mental Health by ensuring all our executive Directors and most of our managers are Mental Health First Aiders, training our staff and subcontractors in Mental Health Awareness and promoting sources of mental health support
Providing Work and Apprenticeships for local people
Community Engagement through volunteering, sponsorship and support of local charities and sports clubs
Promoting the industry - encouraging people to enter Construction
Encouraging and implementing sustainability including the reduction of waste, recycling and efficient use of resources
Find out more about Social Value in Construction here: